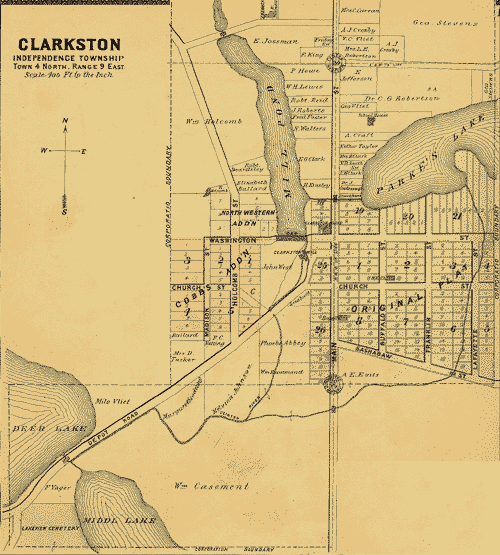 Naming the Village of Clarkston:
The Village of Clarkston is a part of Independence Township. The name for the township came at the idea of Joseph Van Syckle who wished to name the township after this hometown in Independence in New Jersey. He wished to have the new township honor his old town. When the Village of Clarkston became more settled, it's name came from two prominent brothers, Jeremiah and Nelson Clark, who did a lot of work organizing the village.
First Settlements in the Village of Clarkston:
Almost the entire village was timbered for settlement. Overall, the soil of Clarkston was fertile, although some areas proved to be more productive than others. The first land purchase was made by Alpheus Williams on October 10, 1823, followed by John W. Beardslee who made the next purchase. Williams never settled in Clarkston and Beardlsee was the first to settle on the land five years later. In 1831, more purchases were made and settlers began to settle down in the township. As more settlers came into the township, significant improvements were made and land was cleared for wheat farming. In 1832, immigrants settled onto a Sashabaw Plains settlement that was purchased by Beardslee in 1826. Many of the immigrants were from Sussex County, New Jersey where Beardslee was originally from. The year of 1833 saw a large increase of immigration to the village as settlers invited many of their friends from New York and New Jersey to join them in the "land of promise."
Orchards:
Jeremiah Clark planted the first apple trees in Clarkston that he received from Buffalo, New York in 1833. After a successful growing season, it was realized that Clarkston, and Independence Township as a whole, was well adapted for fruit growing. Much attention was brought to this farming and many immigrants began planting fruit trees to grow.
Transportation:
The year of 1832 saw the building of the Territorial Road, or what is now known as the Saginaw turnpike. Later that year, the first bridge was built across the Clinton River. The Detroit and Milwaukee railroad was constructed through Independence in 1851 with a station in Clarkston, which became the shipping point of the township. The train station would continue to be a major shipping point until it stopped transportation in the 1950s.
Saw and Grist- Mills:
Butler Holcomb built the first saw mill in 1833 on the eastern branch of the Clinton River. It was an extensive project that brought the water from the nearby lake nearly a half mile to the mill. In 1838, the sawmill and the milling privileges were sold to the Clark brothers, Jeremiah and Nelson, who also began sawing lumber for a grist-mill that was later completed in 1839. Two more saw mills would later be built, one by Judge Melville Dorr, and the other by Jeremiah Clark, when it was realized that just one saw mill was not meeting the need.